Product Review: Fryxell Feed & Seed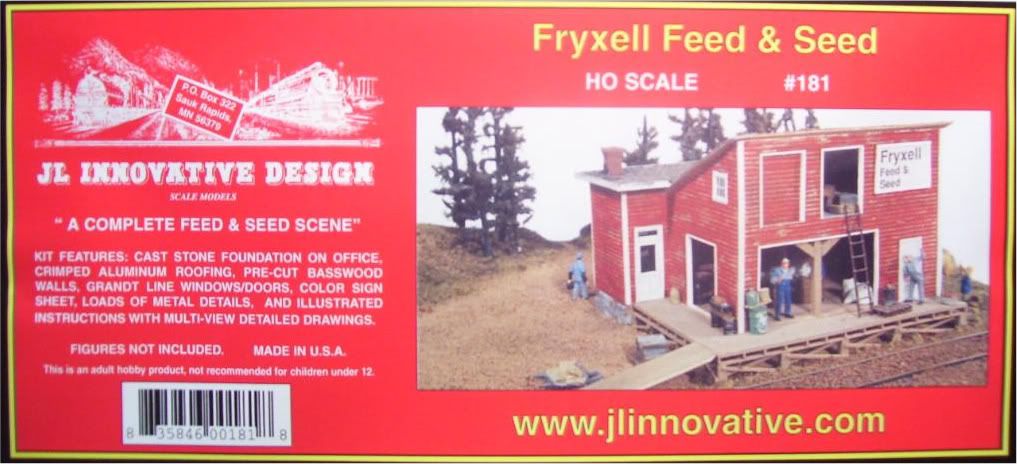 I recently purchased this excellent kit, Fryxell Feed & Seed kit #181 from JL Innovative Design, and decided that it would be my first venture into laser-cut wood models.
The kit contained all of the parts needed for construction, cast detail parts, and enough extra material for the minor changes I made to the model.  The parts were all relatively clear and free of flash, though some cleaning was needed.  The plaster cast for the stone foundation at the rear of the building was a nice touch and was packaged in bubble wrap for protection.
Included in the box was a detailed instruction sheet, having instructions on one side and the drawn to scale building plan on the other.  A cut list was in place for each step of the building process.  There were a couple of minor annoyances from the instructions:  the first was a lack of detailed pictures or diagrams explaining some of the steps (causing much flipping of instructions from the description and the plan on the back) and also that in the dock area of the plan the vertical spacing of the supports was not very accurate.
I kept my changes to the model to a minimum amount, the major change was in adding a ramp to both ends of the dock and also cutting the roofing material into individual pieces instead of one large piece.
On a scale of 1 to 10, 1 being worst, I would rate this kit as follows:
Overall: 9
Provided parts: 10
Instructions: 7
Value for price: 9
Overall quality: 9
This kit was good for a first kit, please stay posted for details and techniques I used in completing the model.