Installing Rock Castings on the Get Out & Push railroad.
Another view of my heavy equipment collection.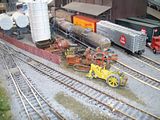 The tow yard, a Woodland Scenics kit.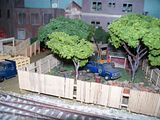 My most recent project, completing the wiring on the meat packing module (my first one).  I ran the bus wires and used suitcase connectors (displacement connectors) to make the connections.  Also seen in this picture are two of the blue-point switch machines.  I still have several more to install, and I intend to try model aircraft control rods to activate them.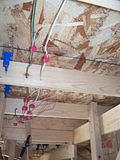 Here is one of the connection points between the modules.  I still am using a clamp as I expect to move the modules a couple of feet before connecting them semi-permanently (well, if and when I move it will come apart) by screwing them together.